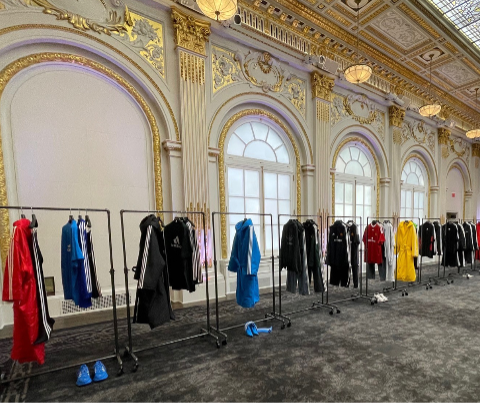 Luxury retailer Balenciaga recently hosted its spring fashion show on the trading floor of the New York Stock Exchange, and the Ground Force Logistics team was onsite to help make it happen!
The "Resort 2023" runway show was Balenciaga's first-ever show outside of Paris, and featured models wearing latex masks and bodysuits, walking across the dimly lit New York Stock Exchange trading floor.
For this project, our team was first involved with a few days of planning and an onsite meeting to ensure all the needs of the job were clearly laid out with a solid plan of action.
We were responsible for picking up and delivering three of Balenciaga's display tables we previously removed from two of their Canadian stores and stored until they were needed for the fashion show. Due to the small size of the freight elevator and large size of the display tables (one of which had a glass top), our team took extra care to move the display tables vertically on their sides so they'd fit. The display tables were ultimately used to display jewelry, leather bags, and accessories for Balenciaga's Spring 2023 collection in the fashion show.
Planning a Retail Construction Project?
If you have an upcoming luxury retail project, our team covers the entire United States and is ready to work on your next project, whether you're in need of:
Deliveries of display tables, fixtures, lighting, rugs, mannequins, display props, or products
Installation teams for assembly, fastening, and wiring
White glove services
Clear communication from a team of logistics experts, including a dedicated staff member with nearly 20 years working in the retail construction and project management industry