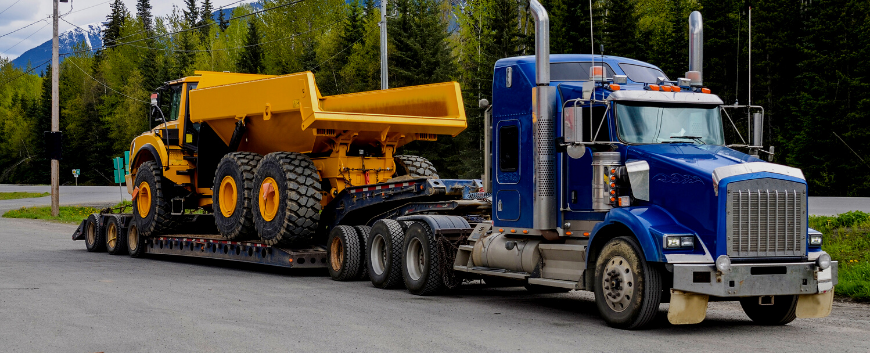 When you're confronted with challenging shipping situations, our heavy haul solutions provide service for over-sized and over-weight cargo and equipment. If there is a way to move the seemingly immovable, Ground Force will find a smart, personalized solution to move your freight.
Whatever the size, shape, and weight of your freight, Ground Force's engineers are ready to solve any heavy-haul problems, with:
Ability to handle loads as great as 320,000 lbs.
Specialized, multi-axle flatbeds and lowboys
Custom-engineered and manufactured rigs
The right equipment for heavy, over-sized containers
Rigs for construction, earth-moving, manufacturing, railroad, and extremely heavy loads
Factory and plant relocation
On-hand cranes, hoists, and lift devices, as well as fork-lifts and tie-downs
Hydraulic, self-widening, expandable tank and vessel trailers
Equipment to expertly move chemical, marine, medical, oil-field, and entertainment-industry loads
Ground Force specialty services include all manners of rigging and heavy haul projects. All projects are carefully planned, engineered, and executed with your business goals in mind. Backed by modern AutoCAD modeling programs, an in-house fabrication shop, and some of the most experienced field hands in the industry, Ground Force can handle the heaviest and most sensitive loads to provide critical lift planning and custom heavy lift rigging services.
Using state-of-the-art equipment, our network of expert engineers, field crews and support staff provide innovative solutions to any rigging job, including:
Roll-on/roll-off
Barge loading and unloading
Railroad loading and unloading
Rigging & millwrighting
Container stripping
Mil-spec packing
Export boxing/crating
Cross-dock services
Shrink wrapping
Project consolidation
Factory dismantling
Factory relocation services
Vacuum packing
Specialized skids
Hood boxing
Flat rack services
Blocking and bracing
Cargo tie-down and cleaning
Heavy machinery moving
Route surveys and feasibility studies
Project management
Engineering services
Why Work With Us?
Get Support from Our Team of Logistics Experts
Need to know the best day to book? Want to know which carrier is best for the job? When you've got questions, our team has the answers that will help you ship smarter. 
Your Shipments, Your Way
When you choose Ground Force, you get more than just a logistics company; you also get personalized solutions that help you achieve your business goals and improve your bottom line. 
Smarter Shipping, Every Time
Stop wasting time, stop waiting on hold, and stop spending too much on inefficient routes. Start shipping smarter now with bookings the way you want them.