In the bustling world of retail, every minute counts. Shout out to the new Men's department on the 6th floor of Saks Fifth Ave Flat Ship! We faced a unique task: getting 12-foot tables and glass displays to the 6th floor when they wouldn't fit in the freight elevator.
Hoisting it up 6 flights of stairs, our team at Ground Force got the job done. No elevator? No problem. We make it happen.
As dawn approached, the final piece of the puzzle fell into place. The Men's department at Saks Fifth Avenue stood adorned with its new additions, ready to welcome customers the very next day. 
Our collaboration with Saks Fifth Avenue exemplifies our commitment to going above and beyond, turning challenges into opportunities and ensuring that the show must go on – even if it means conquering seven flights of stairs in the dead of night.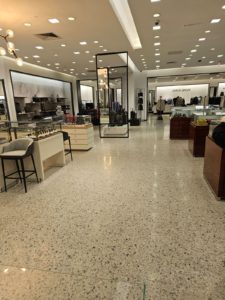 Contact us today to learn more.
Get in touch here.